Before talking about my thoughts about this topic, I want to show all of you an interesting infographic I found presenting the timeline of Education Technology.

Some Interesting Historical Topics of Ed Tech
1999: E-Learning
At the end of the 1990s, with the rise of the Internet and web, e-learning had been flourished and explored (Watters, 2019). With the development of e-learning, people could obtain higher education through textbook publishers such as Pearson; and they could just learn useful courses with computers at home. Hence, e-learning was also considered to be a "dim future" for universities because if the university did not carry out technological transformation well, students could choose online learning courses instead of choosing to go to school for higher education (Watters, 2019). In addition, the cost of e-learning was also a frequently discussed topic. In traditional distance education, expert input and printing costs were relatively high, but the emergence of electronic textbooks enabled courses to be delivered to thousands of students around the world at a lower cost. In general, this period was the golden age for the development of e-learning and also laid the framework for the next decade of educational technology (Watters, 2019).
Before taking this course, I never thought about the relationship between the origin of e-learning and the development of the Internet, which indeed provided more options and innovations for the development of the education industry. Nowadays, a large number of educational resources on the Internet enable people in different places to learn various courses at low travel costs, and people have more choices for what they want to learn. This is also the advantage that the Internet brings to the education industry.
2003: Blogs
The emergence of blogs was also with the development of the Internet, people realized that they could publish their ideas on the Internet, everyone could be a publisher on the Internet, and once their work was liked by many people, they could make regular publishments and updates. An online community that is interested in this publish content could exchange and discuss topics they love. In 2003, blogs began to be used more in the education industry. Educational bloggers could use blogs to establish different online education groups, which also allowed the academic content of universities to be delivered to people in an informal form (Watters, 2019).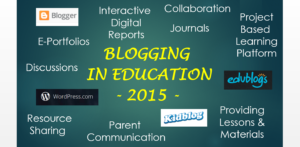 Image resource: (Wallagher, 2015)
According to the research results of  Wallagher (2015), the application of blogging in education brings many benefits:
Teachers can use their blogs to store lessons online or provide supplemental learning materials to students
Instructors can use blogs to organize assignments, such as posting them online for absent students or listing due dates so all students have access to the course materials from anywhere
Teachers can post previous students' work as examples or publish current students' work so they can show parents and family who live far away
Educators can open the comment sections on blog posts to get feedback from parents and the community as well as to create discussion between students.
Personally, I think I have learned more about blog operations during the learning of this course. The process of establishing a blog is not only how to build a community and publish information to this community, but also how to design and manage your own blog to attract more people to join this blog communication and discussion.
Similarities and Differences between Online/Distributed Learning & Open Learning
To be honest, before the pandemic of COVID-19, I had only learned my courses in the traditional way (classroom), and I had never experienced online learning. I found I learned more about e-learning and open learning during the study of this course.
I think the similarity between online/distributed learning and open learning lies in the use of the Internet for learning. This kind of online learning has two basic learning modes: synchronous online learning and asynchronous online learning. Currently, most of my courses are synchronous online learning. The professors and students will join the scheduled online meeting at the same time but at different locations. This is conducive to the synchronous communication between the professor and the students. Unlike my other courses, this EDCI course is an asynchronous online course. The instructor and students can participate in this class together at different times. We can view the learning materials and tasks to be completed at any time, and then complete and submit tasks assigned by the instructor according to our own schedule. Teachers will also provide help when students need it. Similarly, when we want to conduct open learning, we can also choose either a synchronous or asynchronous online learning method.
Open learning is defined as "a learning method for the knowledge acquisition based on open educational resources, open source technologies and online communities" (IGI Global, n.d.). T The purpose of open learning is to allow students to study independently according to their own interests. The content of learning is not just the academic knowledge in the school, but a more diverse content that contains more than higher education. Therefore, for me, the biggest difference between online/distributed learning and open learning is that open learning is not only about learning the required courses I need to get a degree, but also contains the knowledge in the world that I find interesting. For example, reading a book that interests me belongs to open learning.
References
IGI Global. (n.d.). What is open learning. Retrieved from https://www.igi-global.com/dictionary/open-learning/21196
Timeline of Educational Technology in Schools Infographic – e-Learning Infographics. (2014). Retrieved from https://elearninginfographics.com/timeline-of-educational-technology-in-schools-infographic/
Wallagher, M. (2015). How blogging is being used in the classroom today: research results. Retrieved from https://www.emergingedtech.com/2015/09/the-state-of-blogging-in-the-classroom/
Weller, M. (2020). 25 Years of ed tech. AU Press. Retrieved from https://read.aupress.ca/read/25-years-of-ed-tech/section/e69021f2-91b6-4ca4-9d0b-81d3e9748707